Non-player Character with
12 missions
for us. They consist in killing a given number of monsters, after completing each of them, we receive rewards in the form of money and mounts / outfits (depending on the mission), some of the missions give us access to quests, and the last one additionally to a custom hunting ground with
Hive Overseer
,
Floating Savant
,
Rorc
,
Misguided Thief
,
Percht
i
Schiach
 which is the first "post-Katameron" NPC –
Korky
.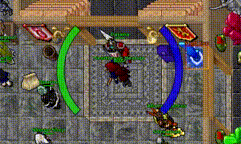 Elysium is the main city on Giveria where we can meet this character. NPC Katameron can be found in the Temple on the lower level (-1).

From the place where we first appear on the server (or the place where we appear when our character dies) head south to the stairs and go downstairs, the NPC will be on our left.
LINE

DESCRIPTION

[

Hi > Mission > Mission

]

Starting the mission with an NPC for the first time.

Completing the mission at the NPC.

Begin the next mission at the NPC.

Journey to Reward Island.
If he does not include monsters in the mission, we should go to the NPC again and talk to us [

Hi > Mission

] !!
There are rewards on the island, with each completed mission, we will unlock a given room where by clicking on the box there we will get a reward and an outfit / mount (depending on the mission).

After reporting to Katameron NPC, we can go to the island by writing "reward" or go to the teleport with quests, then go upstairs and enter the teleport on the left side.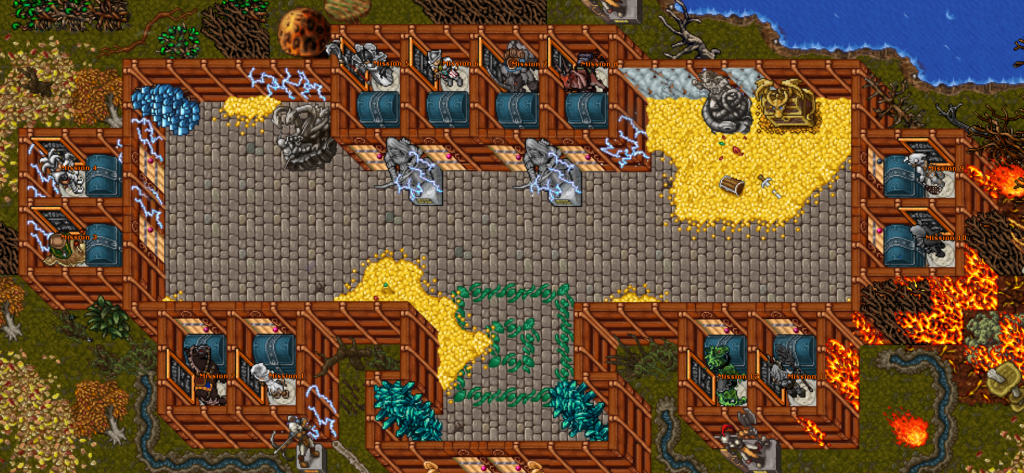 *It is recommended to match tasks from Grizzly Adams to the mission*
AMOUNT

COUNTS

LOCATION


Dragon

Dragon Lord
REWARDS

♂
♀
Afflicted

50 Crystal Coin
ADDITIONAL TASK

Grizzly Adam

Dragon
Dragon Lord
Demodras

40 Crystal Coin
35 Pirate Coin
1000000xp
AMOUNT

COUNTS

LOCATION


Werelion

Werelioness
REWARDS

War Horse

50 Crystal Coin
ADDITIONAL TASK

Grizzly Adam

50 Crystal Coin
80 Pirate Coin
4500000xp
AMOUNT

COUNTS

LOCATION


Dawnfire Asura

Frost Flower Asura

Midnight Asura
REWARDS

Tiger Slug

60 Crystal Coin
ADDITIONAL TASK

Grizzly Adam

Dawnfire Asura
Frost Flower Asura
Midnight Asura

70 Crystal Coin
100 Pirate Coin
6000000xp
| AMOUNT | COUNTS | LOCATION |
| --- | --- | --- |
| | Demon | |
REWARDS

♂
♀
Jester

60 Crystal Coin
ADDITIONAL TASK

Grizzly Adam

200 Crystal Coin
70 Pirate Coin
6666666xp
AMOUNT

COUNTS

LOCATION


Lava Golem

Weeper
REWARDS

♂
♀
Yalaharian

70 Crystal Coin
ADDITIONAL TASK

Grizzly Adam

[

Hi > Lava Golem > Yes

]

 

130 Crystal Coin
80 Pirate Coin
7000000xp
AMOUNT

COUNTS

LOCATION


Cobra Assassin

Cobra Scout

Cobra Vizier
REWARDS

♂
♀
Pirate

70 Crystal Coin

| | |
| --- | --- |
| | Lion Equipments Quest |
| | Lion Shields Quest |
| | Lion Weapons Quest |
ADDITIONAL TASK

Grizzly Adam

Cobra Assassin
Cobra Scout
Cobra Vizier

100 Crystal Coin
100 Pirate Coin
12000000xp
AMOUNT

COUNTS

LOCATION


True Dawnfire Asura

True Frost Flower Asura

True Midnight Asura
REWARDS

Stone Rhino

70 Crystal Coin

| | |
| --- | --- |
| | Knight's Falcon Wepons Quest |
| | Falcon Wepons Quest |
ADDITIONAL TASK

Grizzly Adam

[

Hi > True Asura > Yes

]

True Midnight Asura
True Dawnfire Asura
True Frost Flower Asura

150 Crystal Coin
100 Pirate Coin
10000000xp
AMOUNT

COUNTS

LOCATION


Burning Book

Rage Squid

Energetic Book

Energuardian of Tales

Brain Squid

Icecold Book

Animated Feather

Squid Warden
REWARDS

Antelope

70 Crystal Coin

| | |
| --- | --- |
| | Falcon Equipments Quest |
ADDITIONAL TASK

Grizzly Adam

[

Hi > Burning Book > Yes

]

200 Crystal Coin
100 Pirate Coin
8000000xp
Grizzly Adam

[

Hi > Energetic Book > Yes

]

Energetic Book
Brain Squid
Energuardian of Tales

200 Crystal Coin
100 Pirate Coin
8000000xp
Grizzly Adam

[

Hi > Icecold Book > Yes

]

Icecold Book
Squid Warden
Animated Feather

200 Crystal Coin
100 Pirate Coin
8000000xp
AMOUNT

COUNTS

LOCATION


Cloak Of Terror

Courage Leech

Vibrant Phantom
REWARDS

♂
♀
Deepling

90 Crystal Coin

| | |
| --- | --- |
| | Bonus Crystal Quest |
ADDITIONAL TASK

Grizzly Adam

[

Hi > Cloak Of Terror > Yes

]

Cloak Of Terror
Courage Leech
Vibrant Phantom

350 Crystal Coin
160 Pirate Coin
17000000xp
AMOUNT

COUNTS

LOCATION


Bony Sea Devil

Distorted Phantom
REWARDS

♂
♀
Poltergeist

90 Crystal Coin

| | |
| --- | --- |
| | Addon Doll Quest |
ADDITIONAL TASK

Grizzly Adam

[

Hi > Bony Sea Devil > Yes

]

350 Crystal Coin
170 Pirate Coin
18000000xp
AMOUNT

COUNTS

LOCATION


Branchy Crawler

Rotten Golem

Mould Phantom
REWARDS

♂
♀
Percht Raider

100 Crystal Coin

| | |
| --- | --- |
| | Soul Wepons Quest |
ADDITIONAL TASK

Grizzly Adam

[

Hi > Rotten Golem > Yes

]

Branchy Crawler
Rotten Golem

250 Crystal Coin
150 Pirate Coin
17000000xp
AMOUNT

COUNTS

LOCATION


Druid's Apparition

Knight's Apparition

Paladin's Apparition

Sorcerer's Apparition

Many Faces
REWARDS

Phantasmal Jade

100 Crystal Coin

| | |
| --- | --- |
| | Soul Equipments Quest |
ADDITIONAL TASK

Grizzly Adam

[

Hi > Apparition > Yes

]

Druid's Apparition
Knight's Apparition
Paladin's Apparition
Sorcerer's Apparition

300 Crystal Coin
170 Pirate Coin
20000000xp